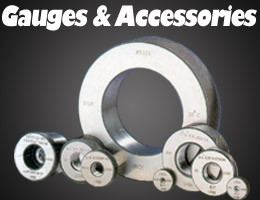 • Thread Gauges
• Thread and Plain Plug Gauges
• Thread and Plain Ring Gauges
• Snap Gauges and Measuring Pins
• Non - Standard Gauges
• Gauges and Tools
• Gauges and Accessories




| | |
| --- | --- |
| | elcome To.......... |
NGT Taper Thread Gauges

NGT TAPER THREAD GAUGES
NGT(National Gas Taper) threads are used to check gas cylinder valve stems & cylindrical neck threads.
(Taper 1in 16 on Diameter)
Specifications :- American Handbook H-28 part II 1957.
3/4''-14 NGT size is manufactured as per IS 9121-2005 on customer request.
Manufacturing Range :

Taper Thread Plugs L1 & Gauge L9, Plain Taper Plugs to check truncation of minor diameter-Gauge C1 & C2, Taper Thread Rings L1 & L8,Master check plugs to check thread rings L1 & L 8.
Plain Taper Ring to check crest Truncation of major Diameter.
Sizes Covered are from 1/8 NGT to 1.1/2 NGT.