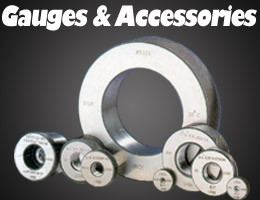 • Thread Gauges
• Thread and Plain Plug Gauges
• Thread and Plain Ring Gauges
• Snap Gauges and Measuring Pins
• Non - Standard Gauges
• Gauges and Tools
• Gauges and Accessories




| | |
| --- | --- |
| | elcome To.......... |
Helicoil Thread Gauges

WIRE THREADS INSERTS / HELICOIL THREAD GAUGES
Gauges to check Tapped Hole to receive Wire Thread Inserts/Helicoil thread Inserts
These Gauges are used for checking oversize tapping, done for fitting wire thread inserts. The threads before fitting wire thread inserts are checked with these gauges.
Specifications :-
BS 4377-1991for ISO Metric Threads.
Manufacturing Range :
WE manufacture Wire Thread Inserts for ISO Metric, Unified, BSW/BSF/WHITS, BSP/G Thread Profiles.